Head hooandjad! Meil on suur rõõm, et projekti esimene eesmärk 9750 eurot on täidetud ja saame olla kindlad, et album ilmub füüsilisel kujul 5. juunil! Aitäh kõigile, kes on meile hoogu andnud! :)
Meie kampaania pole veel lõppenud!! Projekti teine eesmärk Hooandjas on kokku koguda 3500 eurot, millega toetame MTÜ Laste ja Noorte Kriisiprogrammi. Suur aitäh kõigile toetamast!
 
---

Ansambel Curly Strings on koos sõpradega pikalt ette valmistanud heategevuslikku albumit, mille avaldame lastele mõeldud laulu- ja värvimisraamatu kujul, kus on kaasas ka CD-plaat. Albumi nimeks on "Lastele".
 
Muusikast..
Sellel plaadil saavad kokku suurepärased Eesti muusikud, kes on ka ise lapsevanemad. Palusime neil endaga kaasa tuua ühe loo, mida nad oma võsukestele on laulnud või hoopis nendega koos loonud. Seadsime need oma bändi helipilti, et seejärel nad ühiselt salvestada ja panna kokku üheks vahvate laulude kogumikuks. Plaat näeb ilmavalgust digitaalsel kujul 29. mail.
Nõnda löövad muusikaliselt kaasa lisaks Curly Stringsile ka Ivo Linna ja Robert Linna, Mari Jürjens, Lenna Kuurmaa, Mari Kalkun, Ewert and The Two Dragons, Liisi Koikson, Jalmar Vabarna, Marge Niller, Adeele Jaago ning Tartu Laulupesa lapsed.
 
Laulu- ja värvimisraamatust..
CD-plaadiga käib kaasa laulu- ja värvimisraamat, mille annab ansambel välja koostöös kirjastajaga SÜNK Lahendused. Raamatust leiab kõikide palade saamislood, laulude sõnad, noodid ja vahvad must-valged illustratsioonid laulude esitajatest ning lauludes leiduvatest tegelastest, mida lapsed saavad oma fantaasia järgi kaunistada. Kõik albumid ehk laulu- ja värvimisraamatud koos plaadiga jõuavad hooandjateni juunikuu jooksul. Füüsiline album ilmub 5. juunil.
 
Albumi heategevuslik pool..
Albumi kogu müügitulu annetatakse MTÜ Laste ja Noorte Kriisiprogrammile. Annetus aitab MTÜ Laste ja Noorte Kriisiprogrammil ellu viia tegevusi lähedase kaotanud lastega perede toetuseks. Leinas laste märkamise kaudu saab lapse pere võimaluse abiks, et oma kaotusega paremini toime tulla. Selleks korraldab kriisiprogramm laste ja noorte leinatoetuslaagreid, viib läbi individuaalseid leinanõustamisi ja grupitöid lastele ning nende lähedastele. Programm on pakkunud lastele, noortele ja peredele toetust järjepidevalt juba 25 aastat. Esimene leinatoetuslaager toimus 1995. aasta suvel. Tänaseks on lastelaagrites osalenud rohkem kui 1000 last ja noort. Koos individuaalse toetusega on see abi saanud inimeste arv palju-palju suurem.
Peredele on programm tasuta. Seda on võimaldanud riigi ja kohalike omavalitsuste poolne toetus, mis kahjuks enamasti pole olnud piisav. Seega on suureks abiks olnud annetajatest organisatsioonid ja eraisikud.
Teie toetus aitab MTÜ Laste ja Noorte Kriisiprogrammil ellu viia oma tegevusi ja levitada oma sõnumit. Laste ja Noorte Kriisiprogramm aitab ja toetab. Aitäh, kui aitad toetada!
www.lastekriis.ee
 
Laulu- ja värvimisraamatu illustratsioonidest..
Merike Paberits on muusik, kes lisaks pillimängule, esinemisele ja õpetamisele armastab väga ka joonistada. Merike, kunstnikunimega Paburitski, joonistab avalikult viimased aasta aega. Tema lemmikuks väljendusvahendiks on valge paber ja must imepisikese otsaga tindipliiats. Merike joonistab palju just inimesi ja erinevaid karaktereid ning seda üsna minimalistlikul moel. Tutvu tema joonistustega Instagramis @paburitski konto alt. Käesolev raamat on Paburitski esimene raamat, millele ta illustratsioonid on loonud. Kõik pildid on inspireeritud uuel plaadil kõlavate laulude sisust ja nende esitajatest.
 
Merike Paberits
 
Ansamblist Curly Strings..
Curly Strings on akustiline neljast liikmest koosnev ansambel, mis ammutab inspiratsiooni osalejate isiklikust pärimusest praeguses Eesti kultuuriruumis. Nende originaalloomingu peamisteks alustaladeks on intensiivne ja mänguline musitseerimine, meeldejäävalt ilusad meloodiad ja siiras esitus. Ansambli tõus sabatähena Eesti muusikataevasse 2013. aastal oli omamoodi fenomen, tänu millele jõudis bändi looming paljude Eestlaste südametesse, kuhu nad on jäänud tänapäevani.
Eeva Talsi – viiul, laul
Taavet Niller – kontrabass, laul
Jaan Jaago – kitarr, laul
Villu Talsi – mandoliin, laul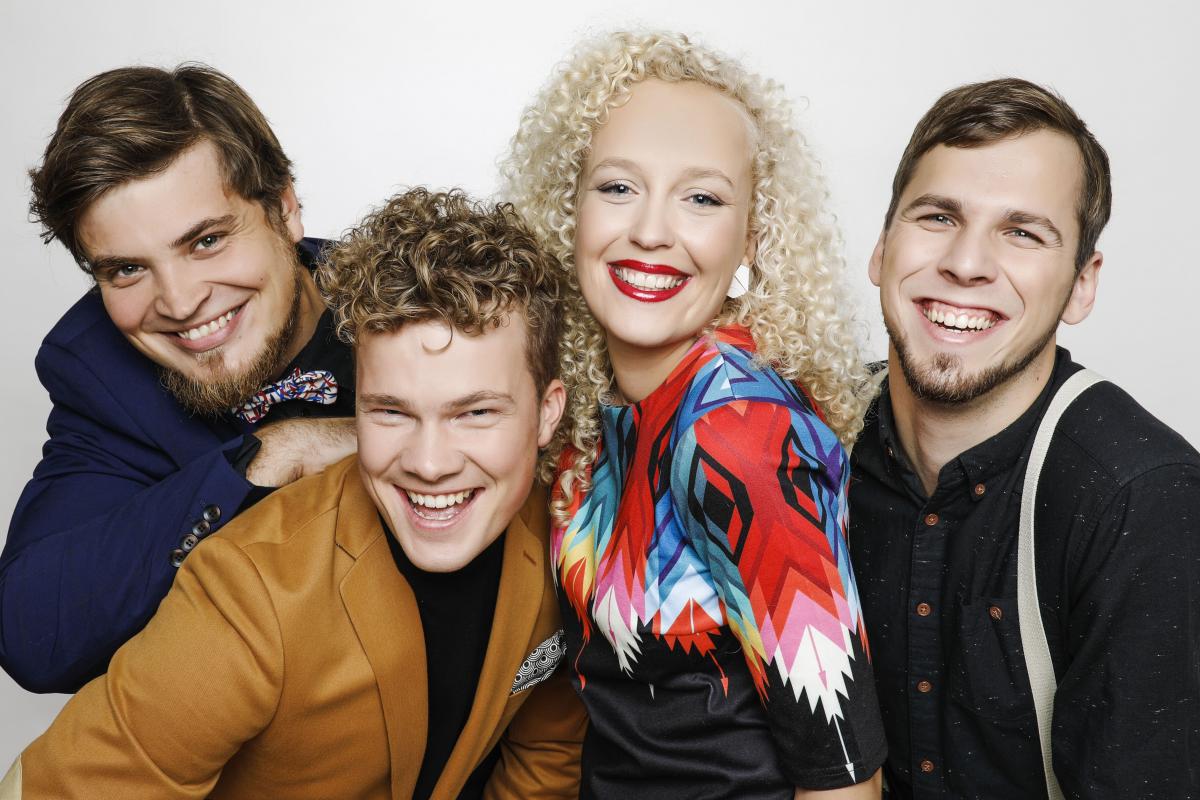 Ansambel Curly Strings
 
Meie Hooandja projektil on kaks eesmärki..
Esimene eesmärk on:
9750 eurot - albumi produtseerimise ja välja andmise kulude katteks. See hõlmab illustratsioone, noodistusi, kujundust, CD-de trükkimist, helistuudio renti, muusika kokkumängu ja lõppviimistlust, muusikute loomeprotsessi ning salvestust. Kokku on albumi väljaandmisega otseselt töötanud ligi 20 inimest, kelle heategevuslik panus projekti on see, et albumi müügitulu annetatakse tervikuna MTÜle Laste ja Noorte Kriisiprogrammile.
Teine eesmärk on:
3500 eurot - MTÜ Laste ja Noorte Kriisiprogrammi toetamine.