Here they are: Arvo and Viivi and Hando and Sirje and Aldo and Anton and Mikko and Kriss and Tommy, to mention only a few.
We have met them in the mornings, afternoons and evenings. We have spent time together.
Along with Karl Vilhelm we have made our tongues vibrate against the roof of our mouths, in order to test what a proper Estonian "r" sounds like. Rrrrrrrrr…!
We have laughed at Ivo's descriptions of the wide bell-bottomed trousers and tight sweaters he used to wear in the seventies.
Together with Jason, who found the love of his life at an Estonian language course, we have discussed how to translate "serendipity", so that it wouldn't sound like a clumsy "happenstance" or "stumbling into something".
We have been impressed by Kadri's daily luxury: the 3-euro cashmere coat from a second-hand in Kärdla and the pink brier field in a golden glow on the island of Naissaar.
We have listened to the story of Peep - deported to Siberia as a child - about his return to Estonia, a country where people talked in hushed tones and cried a lot.
We have drank coffee made by Ilon and we could have sworn that the cups had tiny pretty petals on them, albeit the photos show they were white as snow.
We want you to feel the same.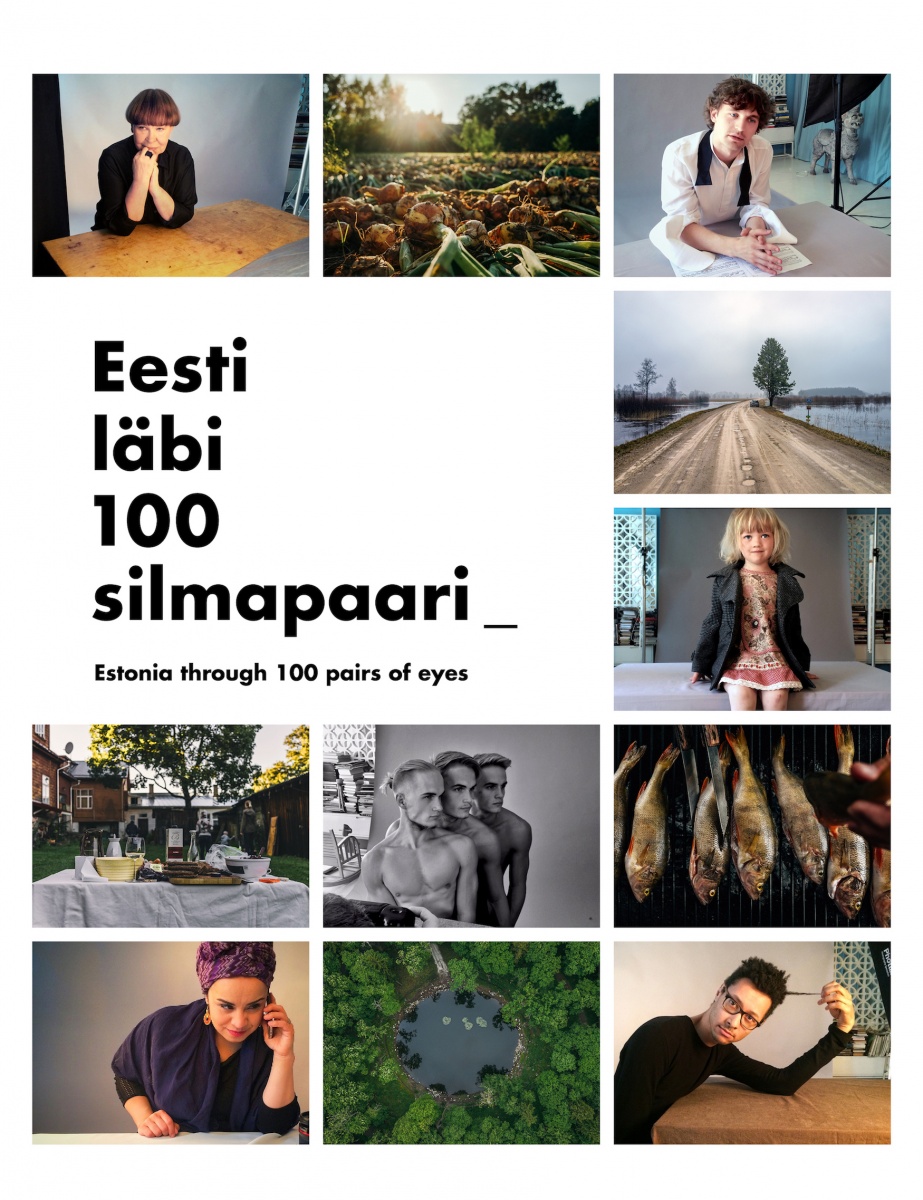 Our project tells the visual story of Estonia through the portraits of 100 Estonians / people connected to Estonia ranging from 100 to 1 years of age. Each year is illustrated by one person. The oldest, a hundred-year- old, was born in the same year as the Republic of Estonia, in 1918. The youngest was born on 24 February 2017. The book contains portraits of people in Estonia and people living outside Estonia. We aim to cover a diversity of occupations and characters: from politics to sport, science to arts, music to agriculture.
The people portrayed include the composer Arvo Pärt, fashion designer Aldo Järvsoo, author Hando Runnel, stand-up comic from America Andy Valvur, singer Tommy Cash, literary scientist Mihhail Lotman, lingerie designer Kriss Soonik-Käärmann, manager of Lets Do It! Eva Truuverk, the correspondent of Estonian Public Broadcasting in Moscow Anton Aleksejev, art historian Mai Raud-Pähn from Sweden, children's book illustrator Ilon Wikland, writer and theatre director Jim Ashilevi, the world's best saleswoman Ülle Indre, conductor Paavo Järvi, Estonia's oldest chocolate-maker Otto Kubo, freestyle skier Kelly Sildaru and many others. There are many who you will meet for the first time.
The book is divided into two parts: the person portrayed and a special mood of Estonia as seen through their eyes. Therefore we also present a hundred picturesque views of well-known locations in Estonia (Rummu quarry), buildings (barn dwelling), emotions (song festival), achievements (e-Estonia), phenomena (cloudberry bogs), which provide a sense of our culture, nature, technological achievements, cuisine and customs to people unfamiliar with Estonia. The two visuals, the portrait and the mood, are linked together by short captions of text in Estonian and English.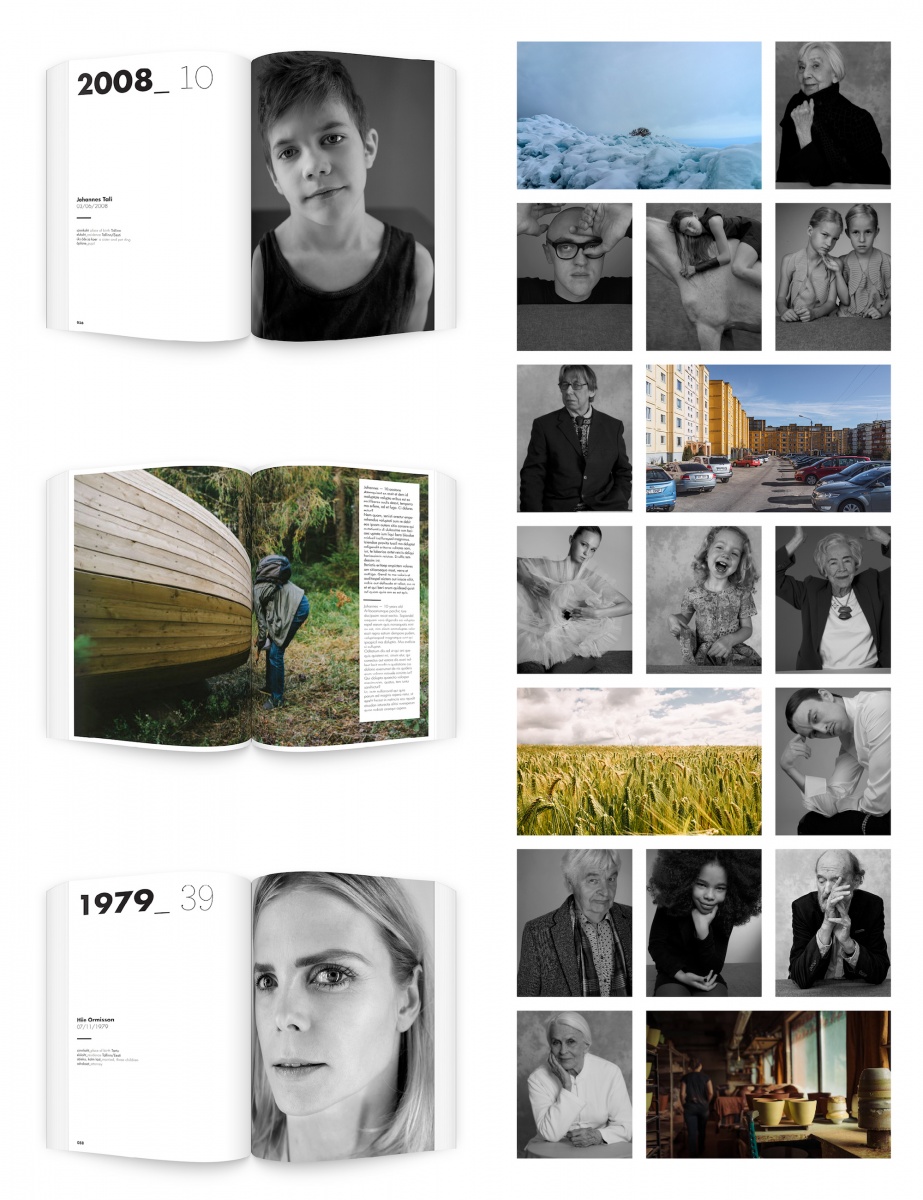 Team
 
Idea and artistic management: Kaire van der Toorn-Guthan
 
Portraits, co-author: Toomas Volkmann
 
Estonian photos: Tõnu Tunnel, Tõnu Runnel
 
Text: Piret Jaaks, Mirjam Matiisen, Tiiu Suvi
 
Make-up: Liis Piksar
 
Sound and film: Sven Sosnitski
The book volume is 420 pages. The book will be complemented by a (travelling) exhibition, which will be opened on 2 February 2018 at the Estonian National Museum. The exhibition will travel to Stockholm, Madrid, Berlin, Rotterdam, Brussels, Luxemburg, Toronto and San Fransisco.
Keep up with our activities:
intervjuu: https://m.youtube.com/watch?feature=youtu.be&v=vR9B5qDQEDE
Facebook: https://www.facebook.com/eesti100silmapaari/
Instagram: https://www.instagram.com/eesti100silmapaari/
EV100: https://www.ev100.ee/et/eesti-labi-saja-silmapaari-naitus-ja-kinkeraamat