Living abroad has been a life-changing experience for me. I've truly enjoyed every moment, the good as well as the challenging. ExpatYears book inspires everyone to live out of their home country for a while, or to travel and see the world.
I know that making the decision to move abroad can sometimes be hard and bring up fears. Afterall, it's a step to the unknown. I've experienced the challenges that can hit you in a different cultural setting. Nevertheless, the challenges all pale in comparison to the positive sides and the growth opportunities.
The 3rd draft of "ExpatYears: How to Grow Into Your Best Self While Living Abroad" book manuscript is ready and I need your help to publish it.
 
About the author
My name is Andre Põlm. I'm a happy person, a wanderer, a nomad, a serial entrepreneur and a life-long learner. I've lived the expat life in Denmark, Australia, Rio de Janeiro and Sao Paulo in Brazil. I've traveled to 57 countries on 6 continents. Started and run tens of businesses and projects in 7 countries. I've had some great times and some hard hits. Yet, I've enjoyed every moment of the experience, despite all the challenges on the road.
 

Why did I write this book?
The Marvelous City of Rio de Janeiro woke up the inspiration in me, to finally put down my experiences on paper. This lifestyle has taught me a lot and I've put together a recipe for a happy life abroad, for a life of growth and learning, and for finding the courage to go and overcoming the fears. The fears that we all have, in one form or another.
ExpatYears focuses on my life in Rio de Janeiro as a startup founder. As if the usual culture shock wouldn't be enough... I added the unpredictability of the startup world to the mix. It was a crazy ride.
 
Diving deeper into psychology
ExpatYears is not just a travel book. While I write very openly about my personal road and the stories, I also explain the learning points through the prism of neuroscience, psychology, growth mindset, and spirituality. I focus on the best tool that we have in our toolbox – the brain.
For research I've lived the life of an expat, taken online neuroscience courses from Harvard and others, NLP courses, traveled to an ashram in India, not to mention the countless books and articles on the subject matter.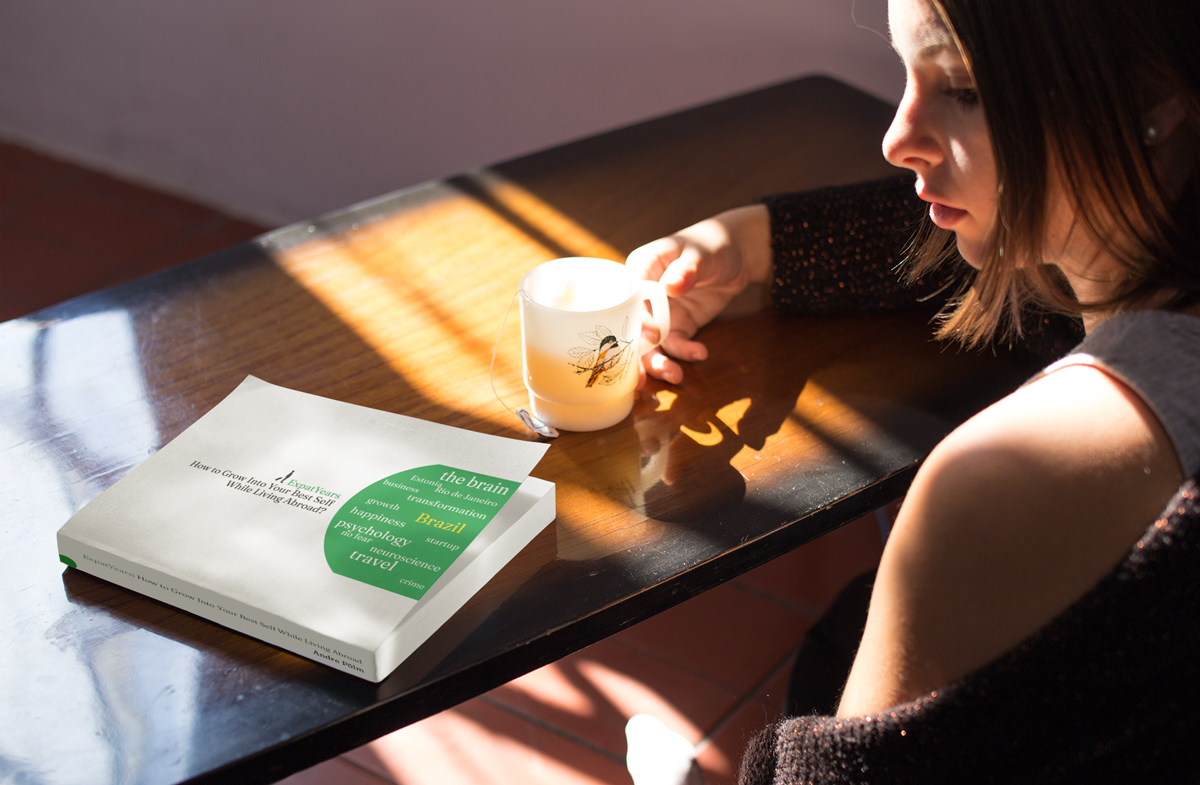 Let's see the world!
I've seen so many people who struggle with their expat lives or on their travels. We often let the external world influence our emotions and mood. There is a better way. A way to enjoy every moment of the experience and to grow during the process.
I do think this book is a needed literature for everyone who ever dreamed of moving abroad, for every expat and traveler, as well as start-up founders.
 
Why do I need help?
I'm very grateful for your support through pre-ordering the book. Get a book for you and as a present for your friends who like to travel and explore. It will help me fund the book's publishing – editor, proofreader, layout designer, cover designer, printer etc.
The book will be ready in 2021 and the supporters get their copies first!
Your help is greatly appreciated!