Please support the publishing of photo book "Estonian Master"!
"Estonian Master" captures people, who still do things with their own hands and at such a level that one can easily call it art.
For his book the photographer Heikki Leis took photos of people who are talented at their craft, observed their ordinary days and captured their working hands. His photos are also done in a way that celebrates an art that is slowly disappearing - film photography.
Alongside Priit Pärn, Edward von Lõngus and several other already known artists the photo series for the book also include other people best at their professions, people who keep alive the skills of a clocksmith, taylor, butcher or a taxidermist. Altogether 33 masters.
It can also come to be that in about a decade we cannot find a person who can do the job of some of these people reflected in the book. Which is why this is a good gift for young people who value handicrafts and want to keep these skills alive, but still have not found the right master with whom to apprentice.
Jüri Kolk wrote a short story about each of the masters and the texts are in both English and Estonian. The book is designed by Kaire van der Toorn-Guthan, has 192 pages and measures 210 x 250 mm. The book will be published in September!
A huge thank you to everyone who supports!
You can look up the works of Heikki Leis on heikkileis.com.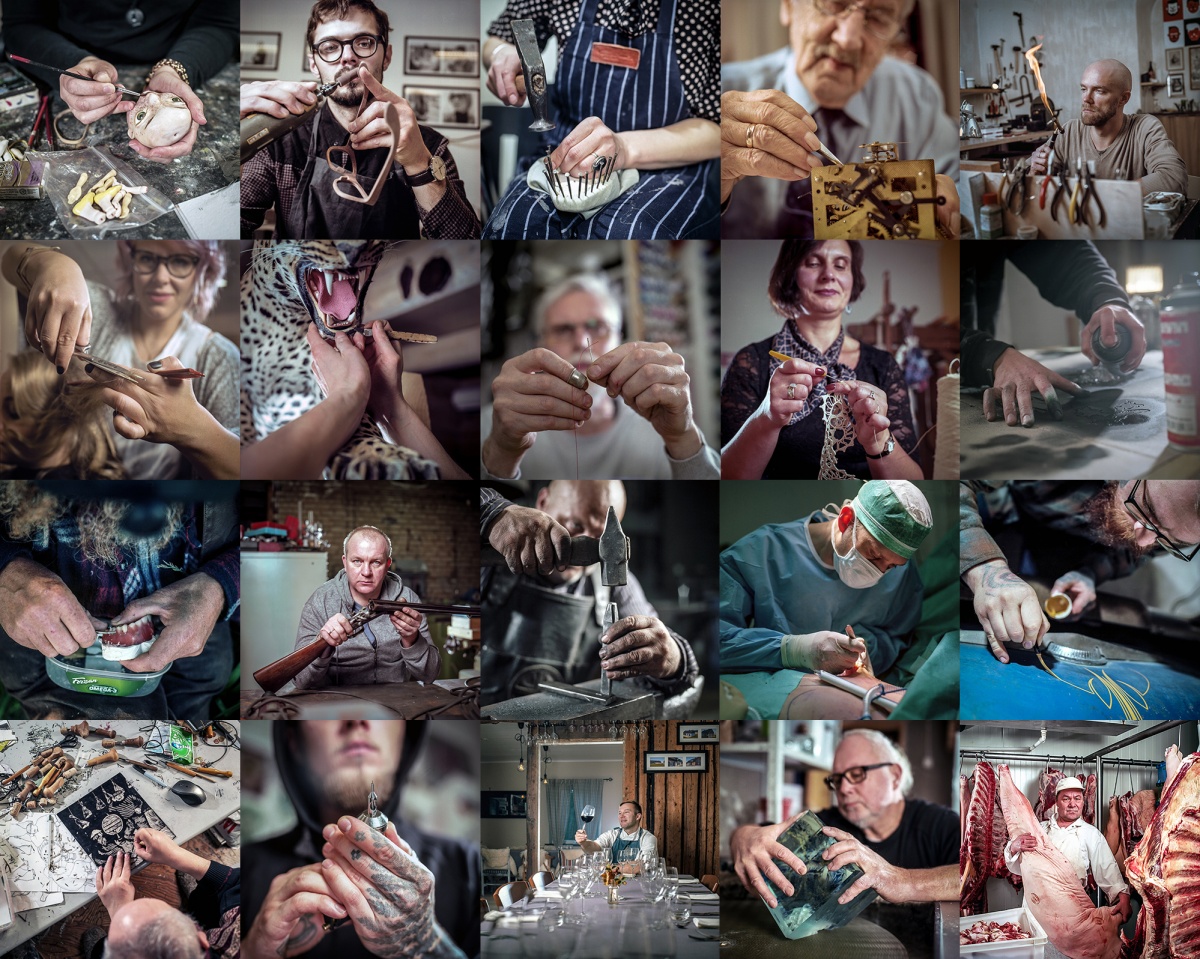 The characters of the photo book "Estonian Master"
Priit Pärn, animator
Merlin Tammeleht, car mechanic
Tanel Veenre, jewelry designer
Heino Kalm, denture designer 
Edward Von Lõngus, graffiti artist
Liisi Roht, make-up artist 
Helen Heinroos, hair stylist 
Johan Tralla, clocksmith
Piret Veski, potter 
Mart Eller, surgeon 
Ivo Lill, glass artist 
Ants Uustalu, chef
Ervin Juht, butcher
Taivo Piller, florist
Peeter Allik, linoleum artist
Loola Liivat, painter
Karl Eelmaa, magician
Stella Soomlais, leather craftsman
Terje Kiho, puppet master
Arne Zekker, medical examiner and mortician
Andrus Hämäläinen, luthier
Karl Annus, eyeglass frame designer
Agur Ints, carpenter
Mihkel Kõrv, gunsmith
Urmas Pikhof, taylor
Sille Sikmann, cobbler
Ivar Feldmann, blacksmith
Jarmo Nuutre, sign painter
Tiiu Kirsipuu, sculptor
Mico Goldobin, tattoo artist
Ott Koppa, taxidermist
Terje Lillmaa, textile artist
Eero Mander, brewer