TRUTH AND JUSTICE is the best well-kept secret of Northern European fiction. It is now time for the world to discover this masterpiece.
Would you like to have your name forever acknowledged in a classic masterpiece of literature? Well, it is now possible for a few hundred of you. So be quick: be a book angel. 
Truth and Justice is the secret icon of 20th century European literature and one of the best novels ever written, a strong and moving epic and an elegant page-turner. Its author, A.H. Tammsaare has his own museum in Estonia (actually 3 museums), his own statue and his park in the center of Tallinn. Yet, this powerful writer (who was also the translator of Oscar Wilde and Dostoyevsky) is hardly known outside Estonia. Why?
Well, there was once a translation started, around 50 years ago, but as the translator was crossing the Atlantic Ocean his boat sank with the precious manuscript. But we are not superstitious. The real story is that there are many untranslated fascinating masterpieces all over the world. This classics in their own land are not given to the global english reader because many publishers know that it is a costly task in a market dominated by best-sellers. We want to give this gems to the world, but we need all the fine books lovers to unite with us.
Who cares about an Estonian masterpiece? We do! We also care about Russia, Bulgaria or for example Portugal, and many other nations in Europe and the rest of the World that have masterpieces of literature to offer to the global reader, provided that someone does the job of translating, publishing and distributing them. Did you know that only 3% of the world books get translated into English?
Haute Culture Books is a start-up that believes in fine books and masterpieces spread all over the world. So many amazing books and authors, sometimes national icons, have never been translated into English! We know how to find them, through our network of cultural spies around the world and thanks to the experience of our founder, author and publisher Luis de Miranda.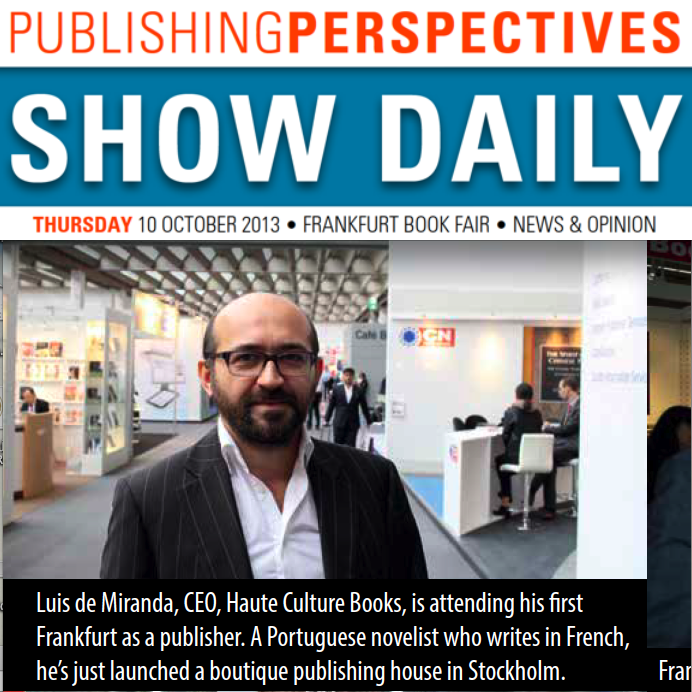 Luis de Miranda, founder of HCB
We are creating the best book collection ever, without compromising. Only undiscovered classics and beautifully made. There are so many ugly fast-books everywhere! We want to recreate the slow and sensual pleasure of reading, the craftmanship of eternal books. We believe that in a world filled with digital reading there will be a little place for luxury hand-made books, with a unique design and the finest materials. Did you know that Assouline boutiques, who stand all over the world for the most sophisticated bookshop network, as accepted to distribute part of our luxury edition, provided that we gather enough funding? So if you choose to donate £300, your "book angel" name in the book will really be seen by the entire world.
But we also want to publish a paperback edition and give away hundreds of e-books for free to students, libraries, readers. Did you know that the Stanford university Library has already chosen to benefit from our luxury collection and our free e-books? We will spread as many free new e-classics as we can.
"The Haute Culture Books English translation of Tammsaare is a historical moment for Estonia." – Maarja Vaino, Director of the Tammsaare Museum of Tallinn.
So this project in particular is about translating and publishing the absolute Estonian masterpiece, an epic fiction called Truth and Justice - Andres and Pearu, by A.H. Tammsaare.
Anton Hansen Tammsaare (1878-1940) was an Estonian writer whose five-part epic,Truth and Justice is considered to be one of the major works of Estonian literature. With the publication of these volumes 70 years ago, Tammsaare gained a reputation as one of the most original thinkers and novelists in northern Europe.
We decided to publish Truth and Justice in English for the first time and with the best translation ever. We will start with the first volume, Andres and Pearu–it is considered to be the best one anyway, and actually, Tammsaare was not thinking of a sequel when he wrote it, but then the book was so successfull all over Europe that he went on with a second volume.
By the way, we have secured the rights for the translation, so we will really be the first, and since our translation (the first chapters are edited) is already recognized as excellent by the academics and the specialists in Estonia and the US, it is likely that there won't be another edition by another publisher within the next 10 or 20 years.
We will publish in English a limited luxury edition, an e-book version, a hard-cover and a paperback. We want to be able to finance a USA and UK global distribution, including high end shops for the limited edition.
Publishing a fine translation and distributing the books is costly. We need the help of "Book Angels" to do it. That's you. We lack some "cash" to be able to completely pay the translator, our american editor and copy-editor, the distribution cost, etc.
We also need you to send a sign to the world, that says that we want "Truth, Justice and Fine Books".
The translation is more than half-way through right now, but we won't be able to go on with all the publication process without you.
Thanks to our Book Angels, we will never compromise: we will publish a few selected masterpieces every year, each translated by the best and carefully crafted to create an unforgettable experience.
READ THE FIRST TRANSLATED CHAPTER OF TRUTH AND JUSTICE - TRANSLATED BY INNA FELDBACH AND ALAN PETER TREI, EDITED BY JAMIE SCHWARTZ
WHAT IS HAUTE CULTURE BOOKS ABOUT ?
Please visit our site : http://www.hauteculturebooks.com or check our Facebook Page :http://www.facebook.com/HauteCultureBooks.
Project has been published also at Kickstarter.