I am Christiana Zalevskaia, a journalist and writer from Russia. In July 2018, I and an artist Inna Podolskaia came to Estonia, we hope for good. This year we will celebrate 20 years of our family life.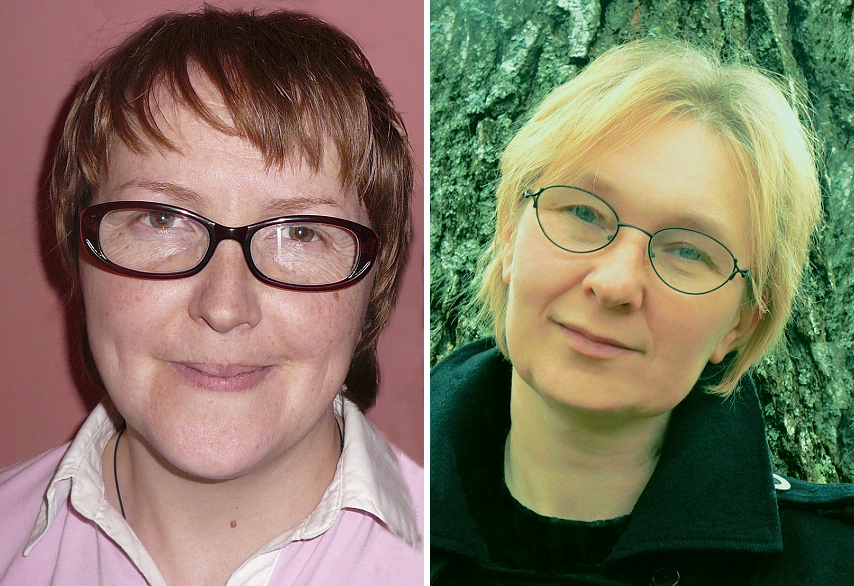 With your help, friends, I would like to give a voice to an independent publication "Beads" - a collection of true essays about real life in Russia. These are documentary stories in the form of an essay connected by a common idea.
An essay is a genre in which a writer can express a personal, subjective, profound experience that does not pretend to be the ultimate truth ... The main force of the essay is in the "skinlessness" of the author, in his sincerity.
"Do you know what the poets are for?" In order not to be ashamed to say the most painful things. " (Marina Tsvetaeva).
This book is about pain. So, about love. About my unrealized love for my homeland, peace, art, for man.
I'm an artist - I do not do politics.
Everything I write has gone through my heart, so I believe that my book will reach yours.
A collection of essays - reflections on fate about the life of a thinking, independent, creative person in Russia. These are the stories of those who are able to escape "for the flags" (as in Vysotsky's song "The Hunt for the Wolves") - live by conscience, with achievement and self-esteem, resisting the pressure of the authoritarian system and the mental stagnation of society. Beads are a symbol of noble, hurdworking, selfless people whose talents and abilities, aspiration to be useful, are "trampled into the dirt" by animals from the evangelical parable - the image of the dark side of Russia. This is the meaning of the title of the book. But in it - and an attempt to overcome this tragic reality, to find a way out, to bring out of the hard experience hope.
I believe that this project will help many who survived the drama of the loss of the Motherland - let go of the past and start a new life. Please, read the excerpt of the essay, and if it touches your soul, support me.
I hope for you, friends!
The project's budget includes several phases:
1. 550 euros - the creation of a collection of essays with an approximate volume of 210,000 - 250,000 characters in Russian (30,000 characters already written)
I am an independent author, paid by nobody. Therefore, I can say and write what I think - without regard to the editorial format, the opinion of the media owner or the customer of the material. I do not cooperate with politicians, I do not accept help from any parties and groups.
But this book is not only my self-expression, it is intended to serve the benefit of the Estonian society. I want to make my professional and creative contribution to the welfare of the country, the development of democracy, human rights and freedoms.
I make a living from my work (advertising copywriting), and this work takes all my time. To find an opportunity for a socially significant project, I need your support.
2. 1100 euros - item 1 + Internet implementation (creation of a thematic site, groups in social networks, project advertising).
3. 1600 Euros - p.1, 2 + translation of the book into English and placement of the version in Internet resources.
4. 2700 euros - p.1, 2, 3 + translation of the book into Estonian and placement of the version in Internet resources.
5. 3700 euros - p.1, 2, 3, 4 + creating a layout, layout and printing a trial edition of the book in three languages (100-200 copies).
6. 6200 euro - p.1, 2, 3, 4, 5 + the edition of additional circulation of the book in three languages (500 copies).
7. 8000 Euro - p.1, 2, 3, 4, 5, 6 + the creation of a documentary video based on the book.
The full version of the book and the film will be available for free in the Internet.
 
---

An excerpt of the essay "Northern sky colors of hope or Hello, Estonia":
Hope  - is a subtle and transparent, indefinite, barely perceptible, but necessary for everyone like air mental matter ... How to express its essence, what to compare with? ... Is it possible to perceive it, to see it? It turns out - yes.
If long and difficult to live "in the country of sand pits" (according to Kobo Abe) without the opportunity and even the desire to tear your eyes away from the continuous "raking up of the evil dunes" and raising it to the sky ... In the exhausting struggle against the eternal "desert storm" for the elementary human's needs and rights ... And then, with incredible efforts to overcome the "sand barrier" and get into an unexpected "oasis" of life ...
Come from Russia to Estonia ...
To lie down to sleep in a beautiful white summer night and look out the window for a few hours ... On amazing colour, like nothing, a soft-shining pink-blue northern sky ... One can literally physically feel how this pure heavenly ether refreshes the soul tired, caked in the "military" everyday life, fills it with kind light, lightness, new hope ...
Hello, Estonia ... Hello, world ... Hello, hope ...
Hope to be yourself, not being afraid to pay for it, hope to learn how to enjoy life, not considering this ability spiritless, hope to become useful to people and find in it happiness ...
 
---

More about the project:
Project's page in Facebook: https://www.facebook.com/%D0%91%D0%B8%D1%81%D1%81%D0%B5%D1%80-%D0%A1%D0%...
Description of the idea of the book "Beads" https://sway.office.com/AI98Xd1076F7pW5s?ref=Link
Continuation of the book: Collection "Beads", the beginning ... https://sway.office.com/jVkdzWXL3jWPswzF?ref=Link
More about us:
Article about us in Põhjarannik (in Estonian): https://sway.office.com/2BExW7T51th9jFqC?ref=Link
Article about us in Feministeerium (in Estonian): https://feministeerium.ee/uskliku-lesbi-pihtimus-ehk-miks-jumal-pole-mei...
My CV + literary work https://sway.office.com/48STD3wfZeiC5vnT?ref=Link
About Inna https://sway.office.com/kFzskhA67yznIbDw?ref=Link
Part of our story (film Ren-TV on VK) https://vk.com/id232345708
We are on Facebook https://www.facebook.com/podolska.zalevska.3
Samples of gifts: