28.05 UPDATE
Nine days after the opening of Hooandja, the brothers already reached 100% of the targeted goal. "From the very beginning, we had set a goal to make as cool a film as we possibly could. Seeing such strong support from the people, we are only getting more hyped and gaining speed. Whether it's explosions, special effects or sushi for our crew, all support is pure fuel for us." Help Raul and Romet to exceed their wildest plans.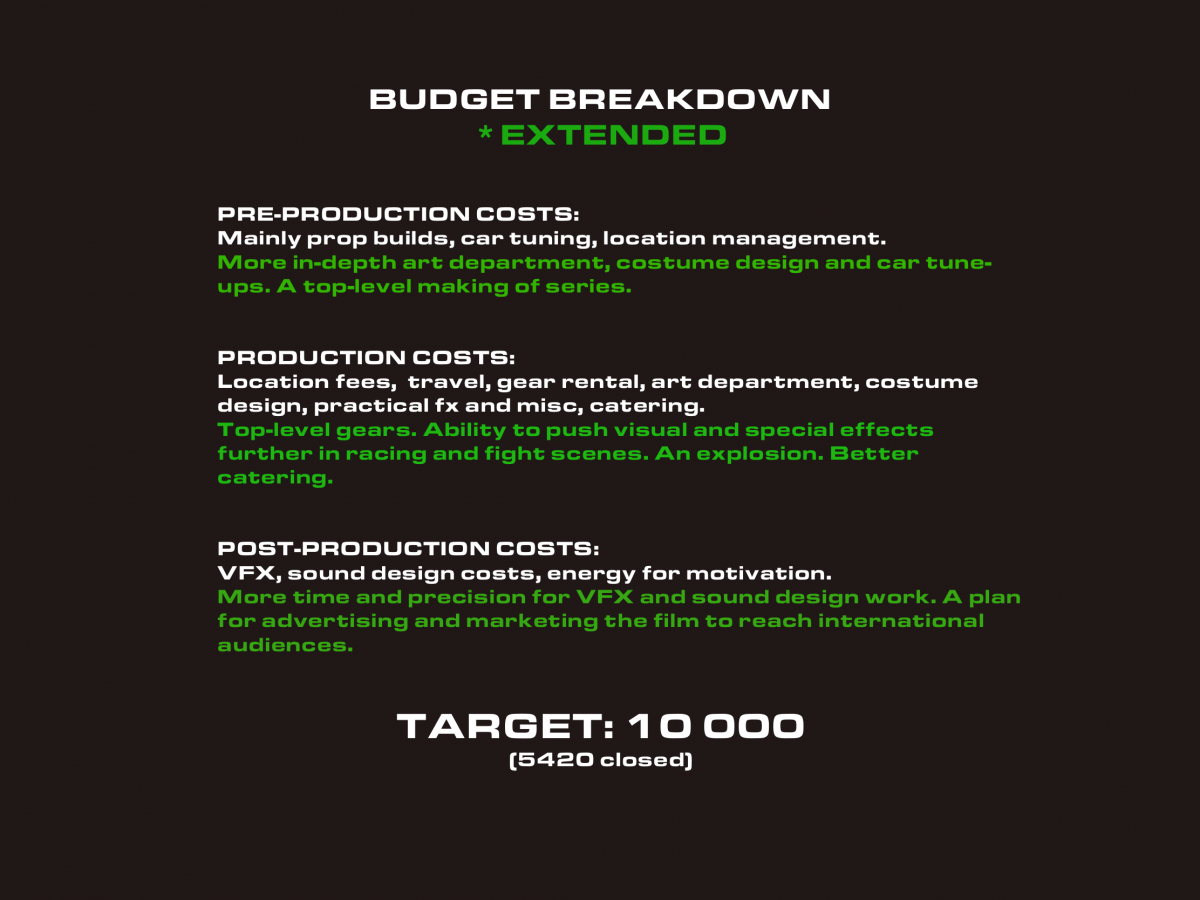 ---

INTRODUCTION
From 2020 PÖFF Shorts National Competition Winners and PÖFF Audience favourites - young filmmaker duo Raul Esko & Romet Esko a.k.a. the Eskobros present their new idea for a short film: TOPELT TURBO, an epic action movie.
Raul and Romet have been studying in BFM for three years and have developed an unique and fresh cinematic language that has started to gain wider recognition in Estonia. The brothers now feel that it is time to ramp things up a notch by facing a production bigger than ever (check: eskobros.com to catch up with their previous productions). 
 
AN INVESTMENT FOR THE FUTURE
Topelt Turbo is a pilot for a full length feature idea that will come around in a few years. The shooting period for the pilot is set in august 2021. The final premiere will take place in december 2021. The film will be the graduation work for Raul and Romet as well as their "ticket to California".
 
INSPIRATION FOR THE FILM
Eskobros will take Estonia to Hollywood level.
The film is fueled by all the action movies Raul and Romet grew up watching. "It comes from a special part of our souls that simply wants to make the most epic action movie ever, but also resolves around the aspect of being a twin" – Romet.
"We pretty much grew up on mainstream action movies and have always dreamed of making this SUPER epic action film." Piled up in the movie, are references from all the greatest movies that have shaped their childhood - "Fast and Furious" "The Matrix" etc. The original inspiration for the story came from the idea of having actual twins as the main characters for a film. Sisters Mari-Liis Kriisa and Maria Kriisa will become underappreciated police detectives Nana and Lulu. Erki Laur will appear as the main antagonist, a psychotic supervillain named Race King. Priit Pius, Märt Pius, Erik Orgu, Mattias Naan have also been selected for a role.
 
CORE
The story follows underappreciated twin sister cops who get confused a lot. The sisters are fed up with the world for a lack of respect and plan to escape as a mysterious twin turbo engine case falls into their hands.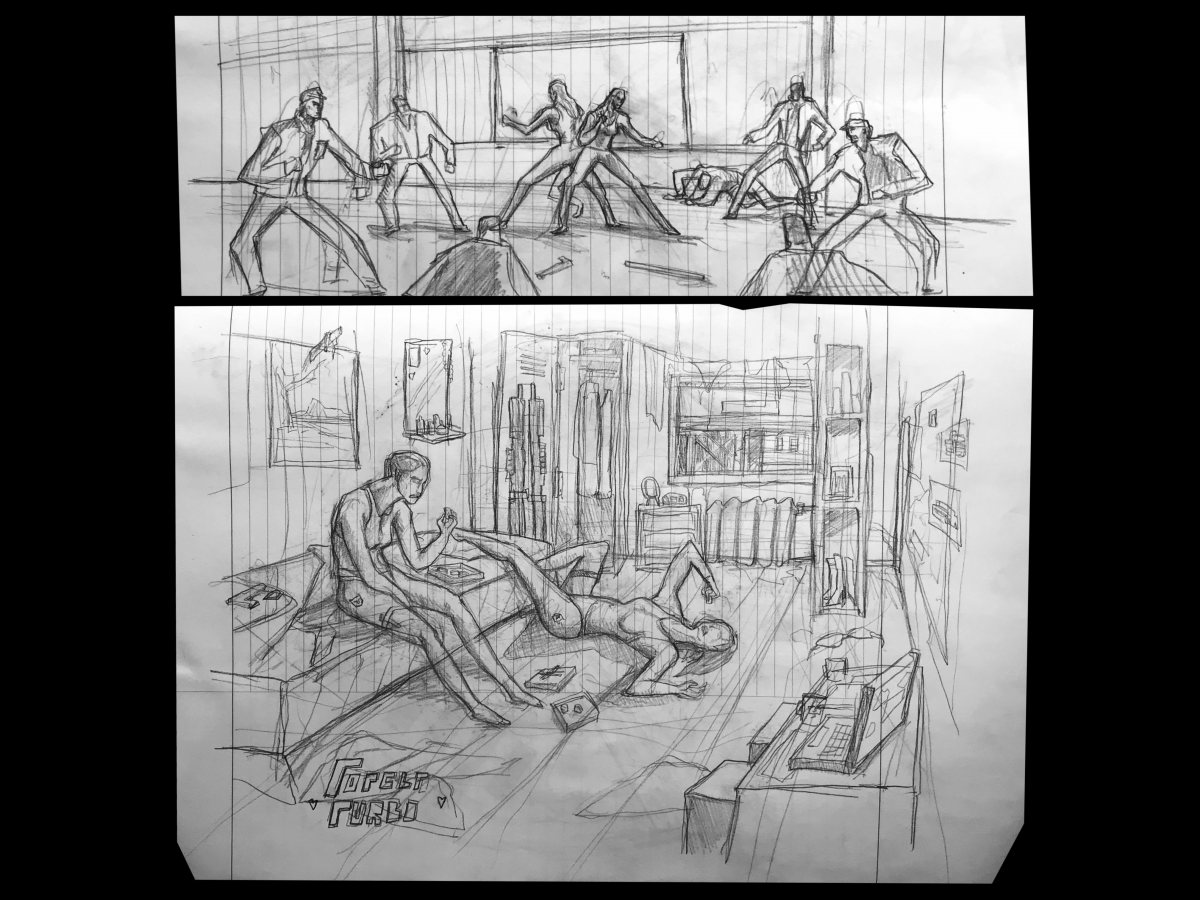 STYLE
"We will bring to life a futuristic grimy action movie version of Tallinn." Art Department is absolutely key in Topelt Turbo. Futuristic street view and outfits, modified cars. There will be explosions, gun fights, blood, tire smoke. Locations in Ülemiste City and Maardu areas will be amplified towards coolness. There will be a lot of sick rides and tuners. The core element of the film - the nuclear twin-turbo engine will be built from old car parts, scrap metal and with help from Estonian Art Academy.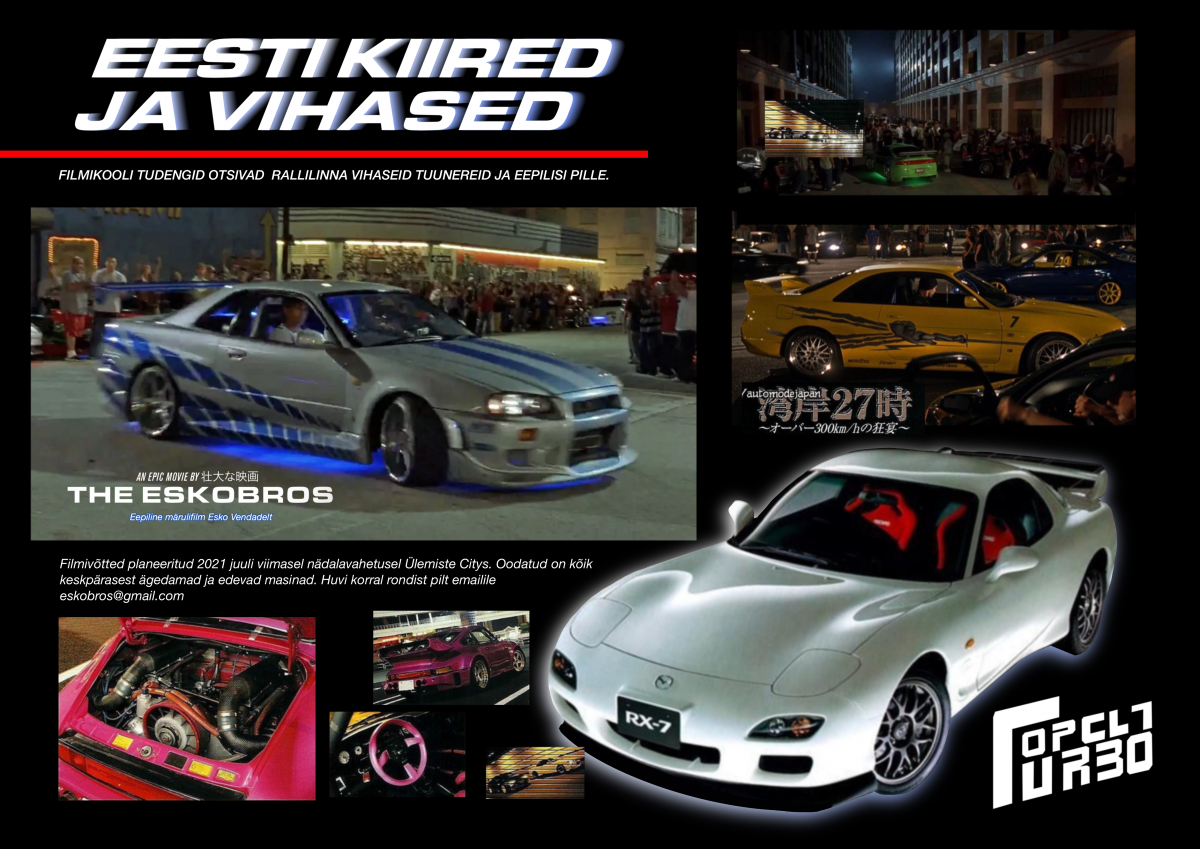 BUDGET
Why we need your help.
 
CREW
The crew is a combination of the most dedicated and passionate film school students and professionals the brothers have come to know during their film school years. With a few helping hands from experienced members from Frost FX, Widescreen Studios, BFM, High Voltage and more, the plan shall be executed with fluent skill.
Directors - Raul Esko & Romet Esko
First Assistant Director - Carol Alice Tõniste
Producers- Henry Spencer Laasalu, Lennart Mathias Männik
Screenwriters -  Raul Esko & Romet Esko
Screenplay Assistant  - Janar Saaron
Director of Photography - Tanel Topaasia, Romet Esko
Production Designer - Viktoria Martjanova, Raul Esko
Art Director - Eliisabet Merete Leppoja
Stylist- Iris Peil
Make-up - Sigrit Villido
Editor - Roland Abel
Sound Designer  - Kaspar Kosk
Soundtrack - Maria Annabel Vainumäe & Helena Põldmaa
Thesis Film Supervisor - Miguel Llansó

Link for the full treiler is HERE!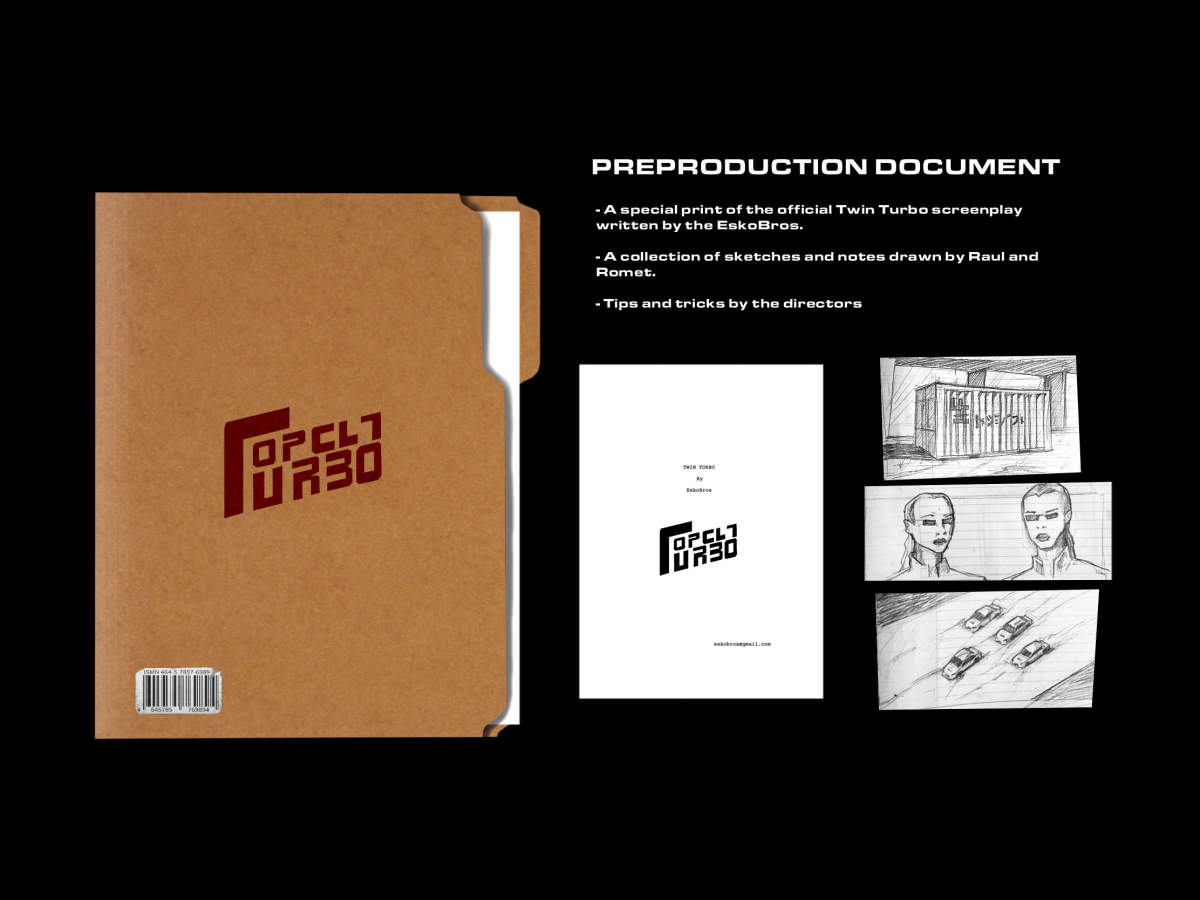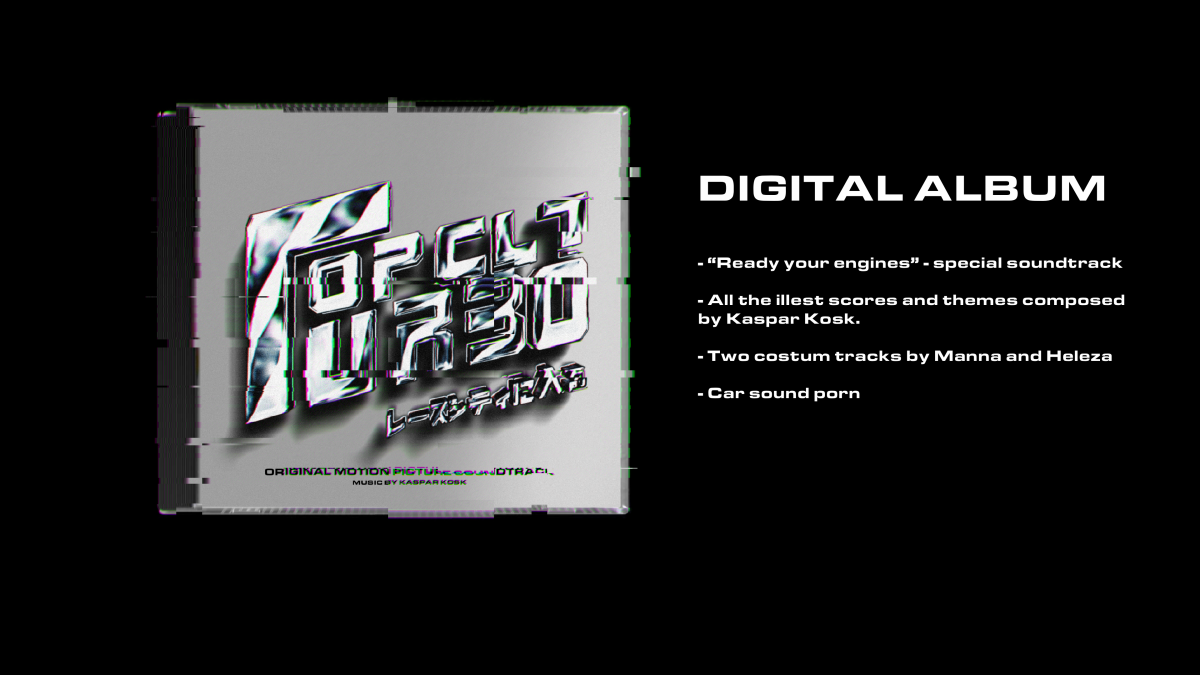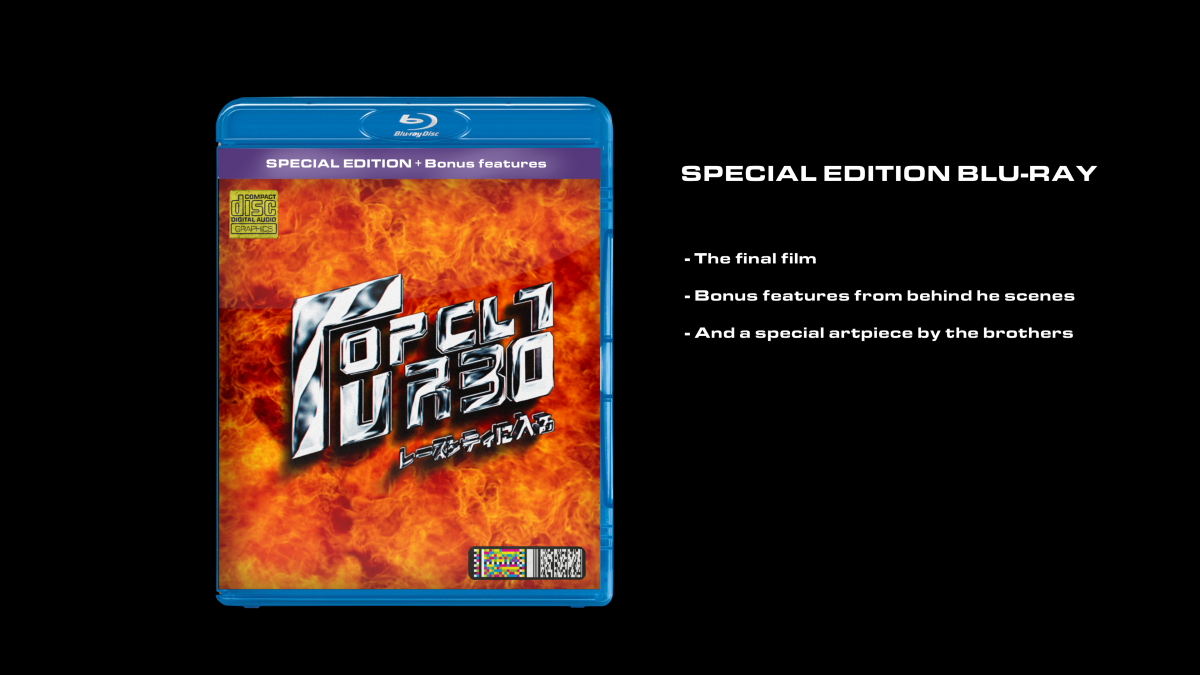 See more Topelt Turbo concept art HERE.
"Estonian film industry has too little nitro gas". Give the brothers a chance to bring new life to Estonian action films. Eskobros promise the film will be next gen epic.
"Action films are the next big thing" - Romet Esko