The book gallery "Russow Galerii", located in the heart of Old Tallinn at Saiakang 2, opened in May 2019. The inspirer and organizer of the gallery Denis Polyakov - a bibliophile, philologist, poet, journalist, traveler, public figure, kulturträger, collector, promoter, gallery owner - is known for his past projects:

1. Russian scientific book (Tartu-Tallinn), 1996-2000;

2. Collector (Tallinn, Narva mnt., 32), 2001-2013;

3. Kontrabass (Tallinn, Narva mnt., 19), 2017.
His projects always combine culture, initiative, self-sufficiency, innovation and nostalgia. Now, when book lovers are becoming scarse, they need unification and support more than ever. And in the center of the Old City there is still a place of force, where humanitarians, collectors and all the people unsatisfied with computer social networking and in need of real live communication or even seeking for intellectual refugee can find shelter.
The mission and goals of Russow Galerii are:
1. Book culture popularisation, library services, book exhibitions and fairs, exchange of literature, new products ordering, completing libraries, old and second-hand book evaluation, assistance in book repairs. Finding fosters for abandoned books. Advice for collectors and those interested in various specific topics. Choosing literature or visual materials for artists, designers, theater and cinema.

2. Art exhibitions, art gallery.
3. Organization of a social club, including musical and literary events.

4. Organization of banquets or festive dinners for up to 50 persons, as well as musical evenings with the participation of professional DJs, singers, musicians.
The main event of the gallery in November and December 2020 will be a personal commemorative exhibition of the artist Dmitry Lazyuk (1969 - 2020), who should have turned 51 on November 17. Unfortunately, he left us in April this year, but his powerful and cheerful paintings as well as his literary and musical works remains full of positive life energy. Despite the serious illness he has suffered for the past 12 years, his great legacy left behind. For the first time, it will be possible to see and appreciate all the diversity of his works. According to the plan, this exhibition will be the first in a series of exhibitions to be also held in other cities of Estonia next year. But we will start, of course, with Tallinn, the city that Dima depicted most often and which he loved so much. You will be able to see his best works from private collections. Also during the exhibition musical and literary evenings will be held. With the lack of tourists, we continue to acquaint residents of Tallinn and all over Estonia with the works of local and visiting artists. For example, performance of a Venezuelan musician, who lives in Tallinn, is expected. The final dates of the exhibition and all related concerts and evenings are still being specified.
We would also like to mention that for the first time, individual works by Dmitry Lazyuk from the Russow Galerii collection will be put up for auction. You must register in advance to participate by sending an application to the gallery's e-mail addresses. We decided to sell part of the artist's works with a heavy heart, but we hope that in new hands they will bring the master well-deserved fame, albeit posthumous.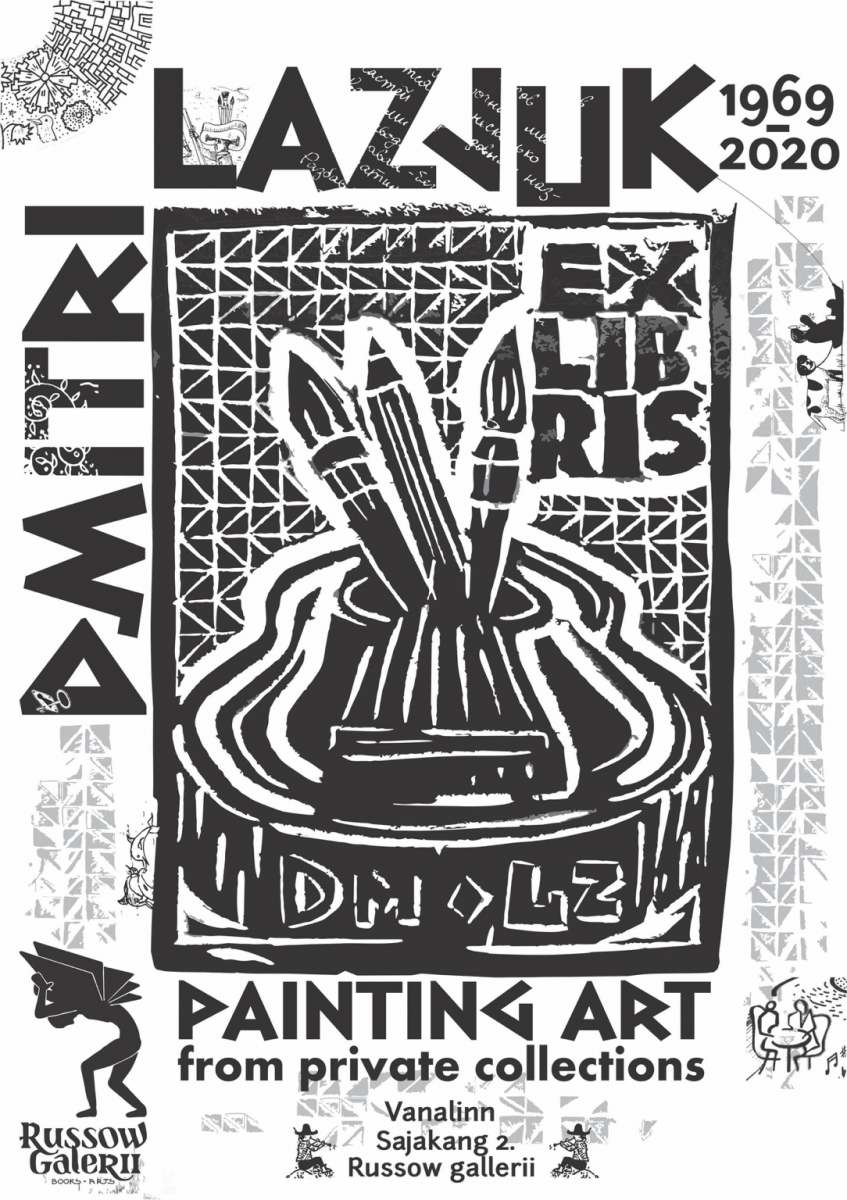 Unfortunately, due to the pandemic and due to the lack of help from the municipal authorities who do not reduce the rent, we cannot cope on our own and need the support of all cultural people, both familiar and non-familiar with us. We believe that not only us and a narrow circle of friends need this exhibition, but also all Tallinn residents and guests, regardless of their nationality, language or other. Art unites and heals.
Most of the funds required for the exhibition have already been collected by us. We need your support to pay rent and utilities at least for one month when the exhibition and accompanying musical and literary evenings will take place. We have prepared gifts for all our sponsors. Also we will be glad to see you at the exhibition! Thanks in advance for your support!
Follow the link to see photos of Dmitry Lazyuk's works.
You can read more about our gallery on our homepage or Facebook page.
In case of questions, write to us by e-mail: russow.galerii@gmail.com .