THE BOOK IS IN ESTONIAN AND WILL BE DISTRIBUTED IN ESTONIA.
---
This is a story of a little, cheerful animal with shining eyes and tiny sparkling pearls, who loves to eat cookies more than anything in the world.
His name is Lucky Animal and he lives with his friend Mari. He lives an ordinary, peaceful life until one day he begins to feel that everything is not quite as it should be. The idea that Mari is not happy starts to bother him. One thing leads to another and Lucky Animal goes on an adventure to find Mari's happiness.
On his journey, he meets interesting characters, each of whom has something useful to teach Lucky Animal.
Robi, a world-travelling toothbrush encourages discovering new places and dreaming big.
The Vicious Spider puts Lucky Animal in a situation where he learns to stand up for himself.
Florian, a light blue wolf boy, talks about the importance of listening to the voice of your heart and following your soul's desires.
(and that's not all)
"The Adventures of Lucky Animal" is a story about the fact that no one else can make you happy, but happiness is hidden within us. You just have to be brave enough to recognise it. And the most important thing is to do what you love to do more than anything in the world.
STORY OF THE BOOK
I am Terje. I have two home towns: Kuressaare and Athens. My big dream has always been to write and illustrate a book for children and adults who believe in miracles and joy of discovery.
The idea of the book came to me when Lucky Animal disappeared during a winter and my sister was looking for him everywhere. To comfort my sister, I wrote a story about how Lucky Animal got tired of the cold weather and went on an adventure around the world. Fortunately, Lucky Animal was found, and thus I had the idea for the book.
I have always liked drawing, but I have never studied it. When I started making illustrations for the book, I realised that my skills were not enough. I was looking for a tutor and a book designer. That is when I met Elina. Elina is an amazing young woman who studies graphic design. The drawings in the book were born from our cooperation.
 
WHAT AGE GROUP IS THE BOOK INTENDED FOR?
"The Adventures of Lucky Animal" is suitable for young schoolchildren, reading aloud to younger children, and there are definitely adults whose hearts Lucky Animal will win. The book is full of illustrations, adventures, joy of discovery and wisdom of life.
 
BUDGET BREAKDOWN
The story is written and edited. I ask for your help in order to design and print "The Adventures of Lucky Animal" in the Autumn of 2021.
The support system has three levels:
1000 – digital design
3000 – digital design and partial coverage of printing costs
4000 – digital design and printing costs
Please be patient when one level is completed and the project rises to a new level! The books will be sent with Itella Smartpost in ESTONIA, and I will ask for the location and telephone number of the parcel locker by e-mail after the end of the project. If you cannot find my e-mail, please check your spam/junk folders or contact me yourself. I will also write you when I have sent you the book.
Here's a secret – Lucky Animal was born in Kuressaare! He loves to hang out in cafeterias and eat cookies, that's why the pledge of 30€ is connected to the Hea Tuju Pagarid in Kuressaare!
Due to the gradual support system, two gifts (coffee and cake in the Hea Tuju Pagarid in Kuressaare and the discovery of the Old Town of Athens) are valid for a longer period.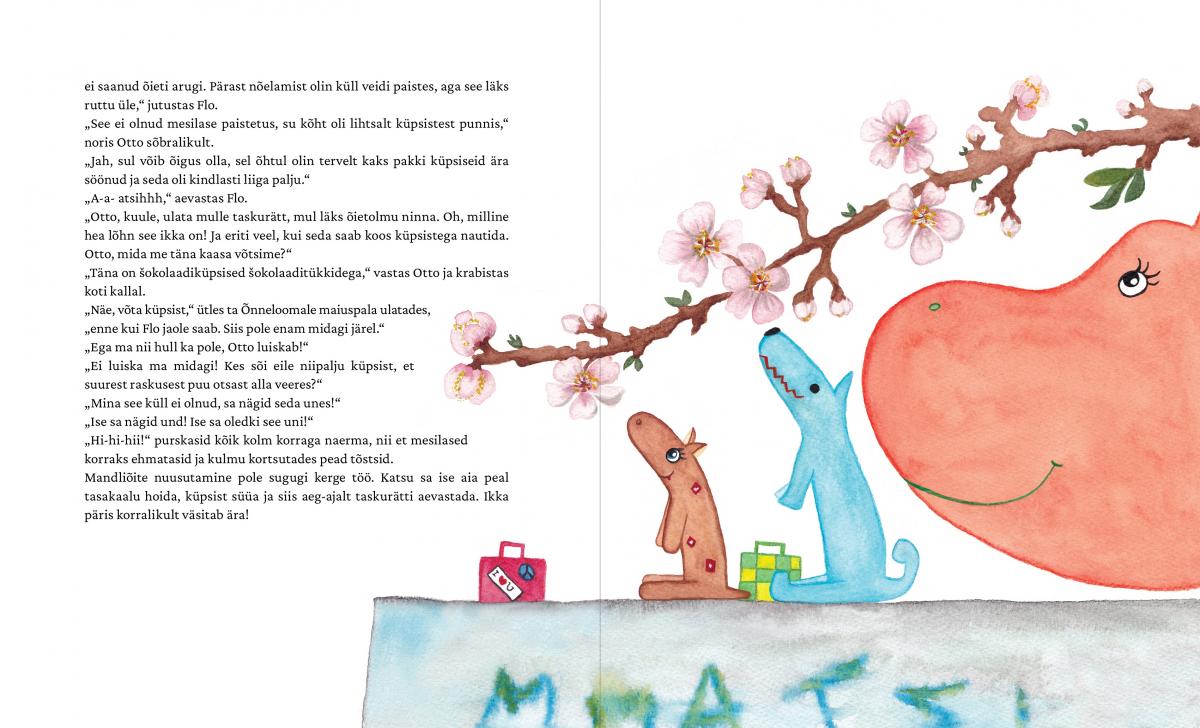 PARTICIPATE IN THE BOOK DONATIONS
I hope that through donations my books will reach the children who really need the message of Lucky Animal.
That is why I want to distribute the book to foster homes or to any organisation that takes care of children.
If you want, you can write where you want to send the donated books and I will take your request into account.
I am deeply grateful to all of you for giving a push to fund my project! A big-big hug and a "paw shake" also from Lucky Animal!