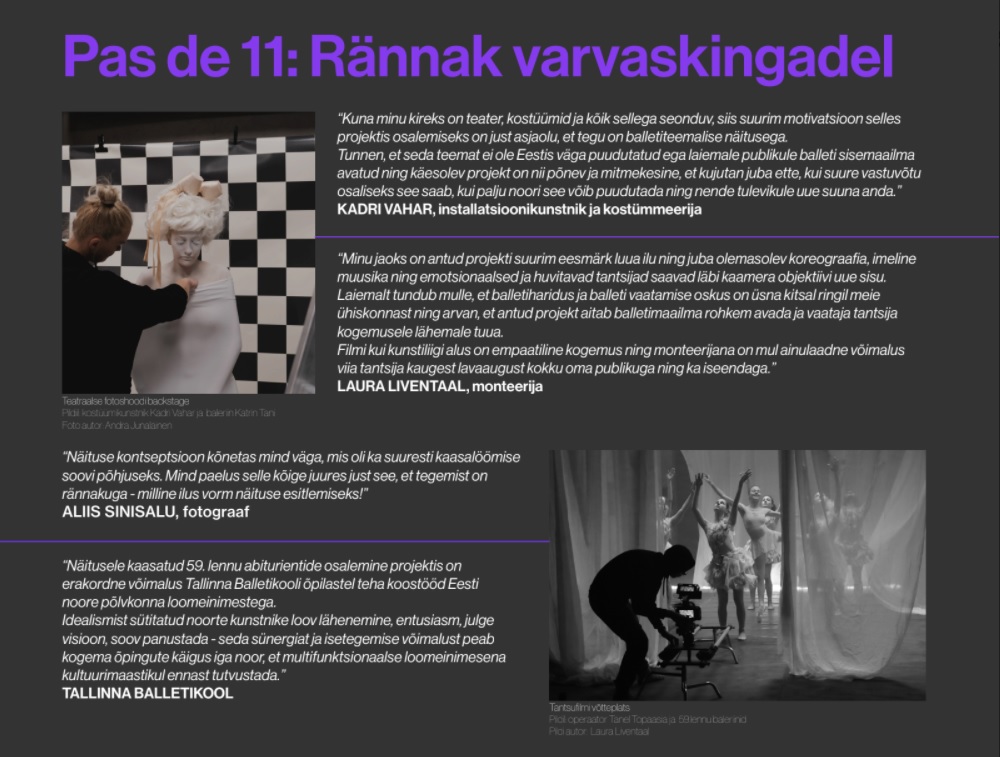 The exhibition "Pas de 11: A journey on pointe shoes" aims to bring ballet from the stage to everyday life and inspire people of all ages to fulfill their dreams. The exhibition is divided into four parts, which introduce the journey of 11 ballerina's dreams through light and sound installations, photo- and cinematography. These art pieces are especially made for the exhibition by young Estonian artists, whose desire is to create something new and exciting in the Estonian cultural landscape and to offer viewers an extraordinary exhibition experience.
The first half of the name of the exhibition is derived from the French dance term pas de deux, which refers to a duet of the main characters of classical ballet. The main participants of the exhibition are 11 ballerinas, as a result of which the term has been adapted for the title as follows - pas de onze (11). The second half of the title - a journey on pointe shoes - refers to the structure of the exhibition, which runs as a journey between the known and unknown sides of the ballet world.
Both project managers and all the artists see this interdisciplinary project as a good opportunity to bring together different types of artists and creative people. The exhibition focuses on ballet, but everyone can think of this journey as a path of their own dreams. The project managers and the artists of the exhibition are not directly related to ballet either, but thanks to art, a common understanding has emerged on how to interpret the meaning of dreaming from a ballet perspective, while leaving room for other fields to interpret their dreaming process. We show how it is possible to identify with the girls of the ballet school, who have been striving for their dreams since the fifth grade. Our mission is to encourage people to start important projects that seem impossible to them at first, but thanks to their entrepreneurial spirit, courage and cooperation, they can make their dreams come true.
We have already completed a significant portion of our exhibition journey - with our film crew we've created a dance performance based art-film, one of our photographers has taken natural black-and-white portraits of ballerinas and photoshoots for theatrical fantasy category are currently in progress of making. However, the installations will be completed at the Põhjala Factory and we are currently looking for the materials and professional equipment for our artists.
As film production, rent, lighting installation equipment, sound system, projector for showing our film and other tools for installing are not the cheapest, we need your help so that we can provide all those things to our artists. As young artists, it is often difficult to carry out such spectacular projects at all, as financial resources are simply lacking. So we hope that together with our supporters we will be able to prove to the young people that such ventures are supported and that it's worth being courageous and making your dreams come true.
If the first goal (5700 euros) is fulfilled we can provide all the lighting and sound equipment and constructions for setting up the exhibition, materials for creating installations, a projector, printing photos and rent.
If the second goal (10700 euros) is fulfilled we can cover the costs of film production, the electricity costs of the exhibition space and print posters.
Thank you and we look forward to seeing you on our exhibition journey! Until then keep an eye on our instagram account and our website.
Earrings can be chosen from HERE.