Dear friends!
My name is Piruza and I am here to present to you the charity calendar of Armenian cuisine.
12 authentic Armenian dishes specifically selected for the calendar can be easily prepared while in Estonia or any other country, with the ingredients available to us.
Over the past 26 years, these recipes have been tested many times by my mother and me, both at home and in our family restaurant, first in Tartu and Jõelähtme, and since 2015 in the center of Tallinn. I doubt that my grandmother would have approved our implemented changes in some of the recipes, however, as a result, you can make all the recipes fairly easily in your own home kitchen.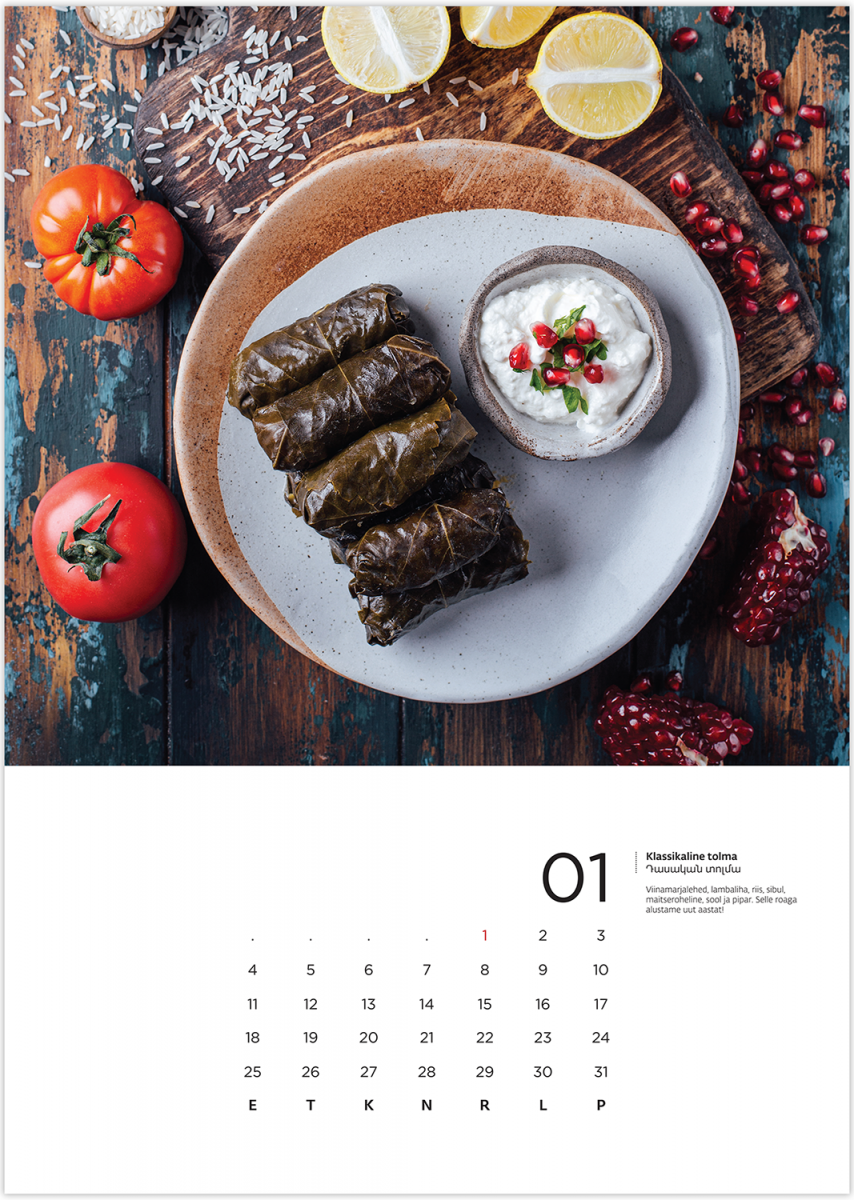 The idea to create a calendar with Armenian recipes came to me several years ago, but, as often happens with hobby projects, its implementation was constantly postponed due to prioritized activities like child care, my main job, the restaurant and so on and so forth.

This year has become especially difficult for each of us in our own way. Unfortunately, the war, due to which my parents left Armenia with me in the early 90s, was repeated again. As a result, tens of thousands of people lost their homes, jobs, and for some their faith in the future.
All profits from the sale of the calendar will be directed to help the children of Artsakh. Not abstract, but targeted help for specific families in which these children live, who have nowhere to return at the moment. These are the families from Hadrut, who now live in hostels and kindergartens where they are often freezing and malnourished. I have been to Armenia twice since the beginning of the war and I also got the chance to personally meet with some of the families affected by the war and saw under what fear they are currently living. Perhaps it is too ambitious, but if this project raises 30,000 euros, we can provide warm clothes, blankets, school supplies and a monthly allowance for 6 months to at least 10 families.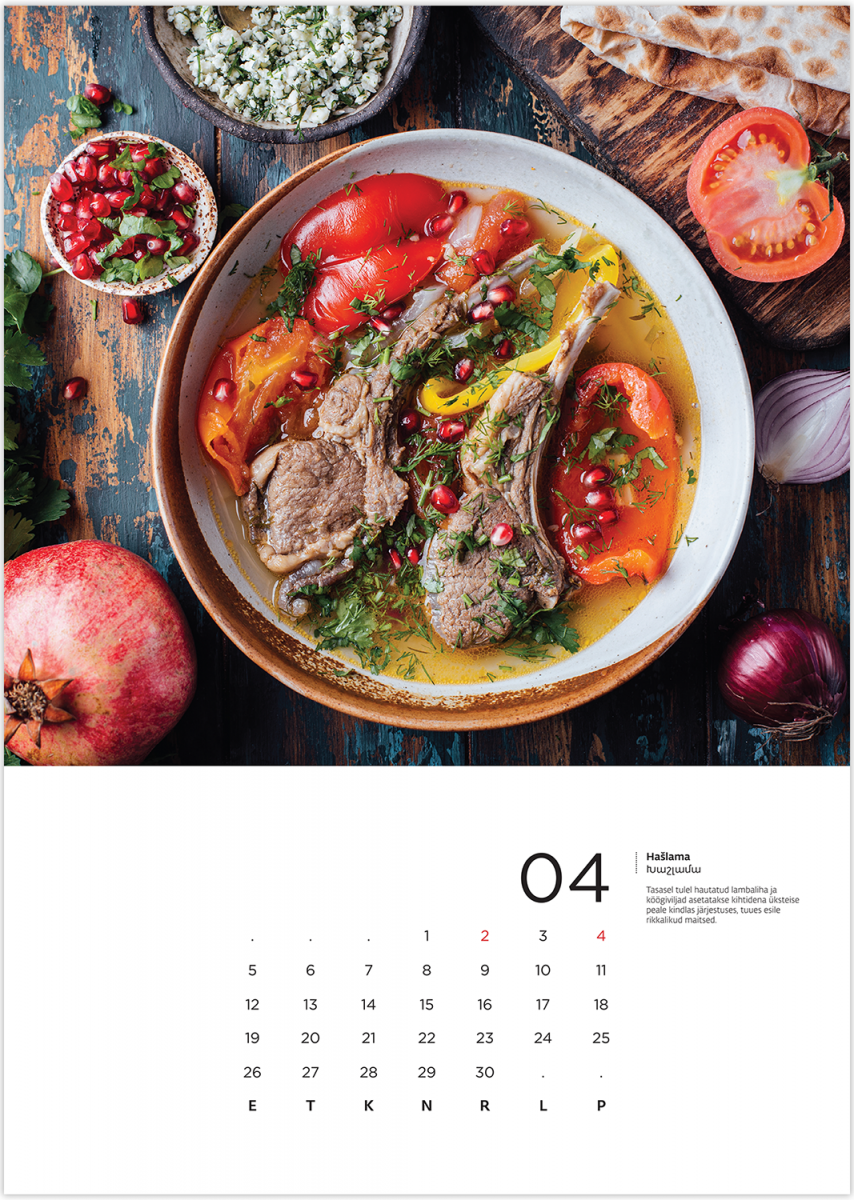 What do you get?
A calendar with beautiful photos of authentic Armenian cuisine 
A recipe book with 12 recipes and with that a great opportunity to turn the cooking process of these dishes into an exciting family event! And if you need any help with the cooking process, you can always ask me for advice.
The calendar will be ready by December 21st. It will be available both in Estonia and Armenia.
The calendar will be available in Estonian, Armenian, Russian and English languages.
In Tallinn, you can pick up the calendar from the restaurant Sevan (Ahtri 6a, Admirali maja), we can also ship it across Estonia for additional 5 euros.
In Armenia, you will be able to get the calendar from the Grand Hotel Yerevan (14 Abovyan Street).
If you have any additional questions, do not hesitate to ask by sending an email to me piruza@gmail.com or by calling +372 56638839.
 
This project would still be a dream of mine without these people:
Lilit, who designed the calendar.
Arusik, who led the project in Armenia.
Aram, who helped to find a photographer.
Kate Prihodka, who took pictures of our dishes.
Kristina, without her strong support I would not be able to function at all.
Tamara, who has a gift of being where needed the most and who has the strongest desire to help.
Mger, the person who was responsible for taking videos and editing.
Nelli Denisova, who makes my texts more enjoyable to read and grammatically correct.
Armani, Merle, and Kertu who were responsible for the Estonian version.
Slade and Maria, who were responsible for English text and also making sure that calendar is following equality rules.
Hooandja, for an excellent service and support of our project
Kangas ja Nööp shop and cafe Cherry for allowing us to take videos at their space.
Grand Hotel Yerevan, for support and partnership in Yerevan.
My mother, there is simply no other one like her in the world.
And of course, a huge thank you for your support!