Elektriteater has now been showing films for five years, and from the very beginning has dreamt of a decent outdoor cinema. Now it is time to make the dream a reality in summertime Tartu.
This summer, we intend to start a travelling outdoor cinema and tour through different corners of Tartu - from Karlova to Supilinn to Annelinn, by the river and in the parks and gardens. Here for one weekend, there the next one. We plan to arrange as many free screenings as possible, and therefore allow people have the opportunity to experience the magic of film that fascinates us in Elektriteater. The more you help, the better we can organize all of this.
There are, however, quite a few challenges when it comes to organizing an outdoor cinema. That is the reason we're asking for your help to make this initiative sustainable and to keep it going in the years to come.
What will our outdoor cinema look like?
It will be a large, deflatable screen in an open field. People will sit in front of the screen with their chairs and blankets. Guests who have brought their radios or smartphones with them can easily listen to the film for free. There is also the opportunity to rent headphones and a beach chair for a few euros.
How many films and when?
The Outdoor Cinema will be on most weekends starting from the middle of July until the beginning of September (apart from a little break during tARTuFF film festival). On some weekends we'll be holding several events, and on others only one. All in all, there will be about 15 screenings.
What obstacles still need to be overcome?
We already have lot of what is needed - a new deflatable screen that will survive the winds and storms, a projector that lets us screen you the newest of films, and a kick-ass team without whom the cinema would fail. But all of this is sadly not enough. To show films outdoors we would need a new lens for our projector, headphones to bring you the sound, comfy chairs so you don't feel stiff after ten minutes, blankets to keep you warm in the cool Estonian summer, a nice cafe to keep you equipped with hot drinks and fresh snacks, and many little details that make this outdoor cinema an experience to remember. 
Which films will be shown?
The programme will be diverse as usual. We intend to show some fresh Hollywood blockbusters along with some older classics, good European cinematography and also some surprising appearances. Some of the screenings will harmonise with the locations, while others will look for contrast between the film and surroundings. But most of all we intend to show good summer night movies under the starry sky in amazing places. The films we can show depend on the kindness of your support in Hooandja.
How much for the ticket?
During the first summer, our outdoor cinema will be free of charge, if you bring your own headphones and a small pocket radio or a smartphone. There will also be a possibility to rent headphones and a chaise for a small fee.
What next?
Ideally, there would be a place to enjoy the outdoor cinema on every summer evening, no matter if the sky is clear or if it drizzles. For the cinema to survive and the programme to be diverse and enjoyable, there is a plan to make the traveling cinema stationary and to have screenings with a ticket.
UIT festival 2014 at which we showed Jacques Tati's movie "Playtime" at Veeriku hangars.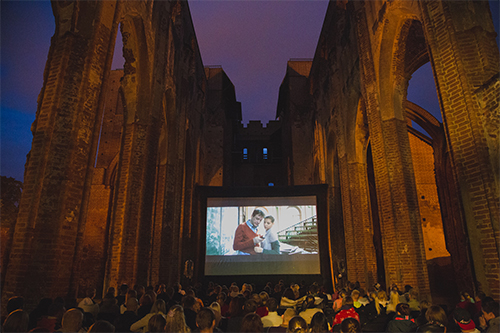 For three years we have executed a nighttime cinema during the Hansapäevad festival at Tartu Toomkirik's ruins.
tARTuff 2015 where we showed Roman Polanski's "Rosemary's Baby" on top of the towers of Tartu Toomkirik.